1998- The technology is outdated: the memories unforgettable!
I've been going through old floppy disks, trying to find if there is anything I really need to keep. And I found this picture.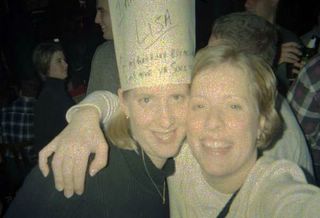 It is from November 1998, I spent a weekend in Chicago with Lisa, Dano, and Mikey. We had a unforgettably fabulous time. Today I found the pictures that I had developed to a disk, and the quality is crap. But the memories are still great! Here's Lisa and I in the hat the bartenders made her for her birthday!